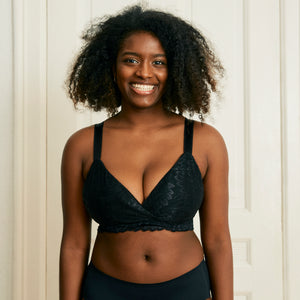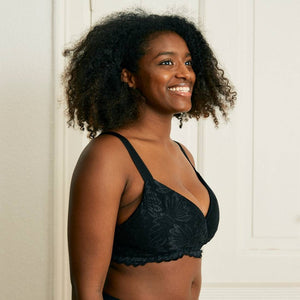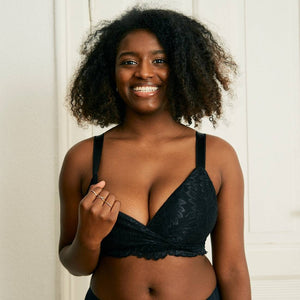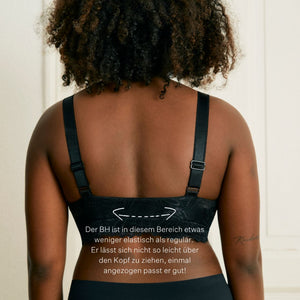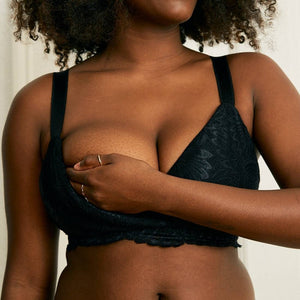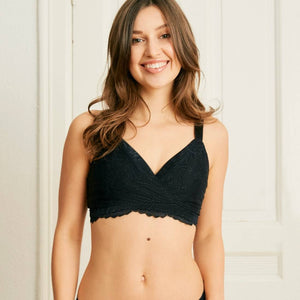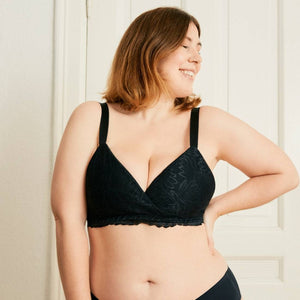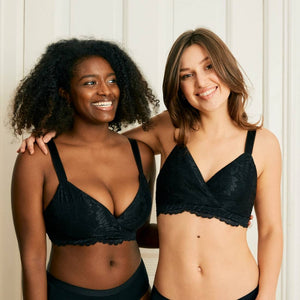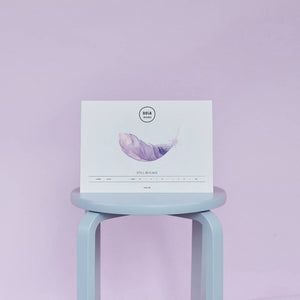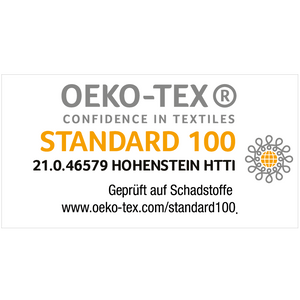 Moms Nursing Bra Lace black - b-ware
incl. VAT – 3 ooias +: free shipping
The ooia moms nursing bra Lace covers you with exquisite Italian lace. The lingerie shimmers in a leaf design. This limited edition* is only available for a short time.

Special featureBuilt-in nursing pad and pull-down function for easy breastfeeding

Fair productionManufactured only with fabrics from Europe under ethically and ecologically fair standards

Female-led companyFor an equal world where women's* needs are not taboo
product details
Available for a limited time and limited amount only*!

This Moms nursing bra surrounds you with exquisite Italian lace. The lingerie shimmers in a leaf design. It has the function of a nursing pad built in, giving you lasting support to enjoy the day and night with your baby worry-free.

The built-in membrane system can eliminate the need for additional nursing pads while feeling completely dry. In addition, the nursing bra is washable and therefore reusable - unlike conventional nursing pads. Be sure to use a laundry net when washing to protect the materials. Your nursing bra will thank you.

*In this edition, the underbust band, especially in the back area, is not as stretchy as normal. This makes the bra a little harder to pull over the head, but then it fits very well. Therefore, do not worry if you get the impression that the bra is too tight when you put it on, it fits true to size.

ooias are produced ethically and ecologically fair in Portugal, Lithuania and Croatia with fabrics from Europe.

The pull-down function allows you to easily push the cup aside and start breastfeeding - wherever and whenever you want.
The ooia Nursing Bra is wire-free. Any breast up to and including cup size D will feel super soft and comfortable in the ooia Nursing Bra. It can already be worn during pregnancy and after weaning.

Especially at the beginning of your breastfeeding relationship, you may lose significantly more milk and the ooia nursing bra may not be able to absorb it all. We recommend that you try it out. The ooia Nursing Bra also works great as a backup in combination with preferably washable nursing pads. You can also change the Nursing Bra more often if necessary.

Our model Antonia wears size S, our model Meera wears size M and our model Fabrice wears size L.
With your purchase you support organizations that promote female empowerment with their projects - here to learn more.
technology
Your ooia nursing bra is as beautiful and comfortable as your favorite underwear, but it can do so much more: it has an integrated membrane system in the chest area that soaks up the liquid and prevents it from leaking.

The layer closest to the body is made out of soft merino wool. It quickly wicks moisture away from your body and you'll feel dry at all times.

The middle layer is made out of specialized fibers that absorb very quickly.

The outermost layer is a liquid-impermeable membrane that doesn't let liquid out and protects you from leaking. This layer, like all other layers, is breathable and elastic.
washing
Wash your ooia nursing bra once before the first use.
It is best to wash the ooia nursing bra by hand in cold water after wearing it for a few days.

Then you can put it into a laundry net and into the washing machine and wash it at 40 degrees ideally in the easy-care wash cycle - you can also do this along with other dark laundry.

Please do not wash your ooia Nursing Bra with full detergent, as this is too aggressive for the wool. Instead, ideally use wool detergent.

Please do not use bleach or fabric softener, as this will limit the effectiveness of the ooia Nursing Bra.

Please also no dry cleaning - but who brings his underwear to the dry cleaner?

Ironing is also a no-go, just hang your ooia Nursing Bra on the clothesline and it will soon be ready to wear again.

Your ooia Nursing Bra can be used indefinitely long if you treat it well.
If you want to know more about how to wash your ooia, click here.

material
Your ooia nursing bra is made out of carefully selected, specialized fabrics made in Europe. The ooia nursing bra is certified and tested for harmful substances according to STANDARD 100 by OEKO-TEX® [21.0.46579 HOHENSTEIN HTTI]. Thus, the ooia nursing bra is certified skin-friendly and harmless to health.

Furthermore, our wool comes from merino sheep that are treated fairly (mulesing free)

Some raw materials which enter our fabrics cannot be sourced from Europe, as this is not possible for climatic reasons.
material composition:
Outer fabric: 93% cotton, 7% spandex
Lace: 85% polyamide, 15% spandex
Lining: 100% wool (merino wool: mulesing - free)
Midlayer: 80% cotton, 20% polyester
Membrane: 100% polyester backing, 100% polyurethane membrane

bacteria inhibition
The middle layer of the nursing bra contains the bacterial inhibiting agent silver chloride. This layer is lined with merino wool on the inside and cotton on the outside.
EU Regulation No 528/2012: biocidal active ingredient is silver chloride

No nano particles are used.
delivery and return
If your purchase is over 30€ your ooias will be delivered to you within Germany with DHL GoGreen. If the purchase is below that it will be delivered with the Deutsche Post GoGreen. To Belgium, France, Greece, Italy, Luxembourg, the Netherlands, Austria, Portugal, Spain and Switzerland, we always ship with the Deutsche Post GoGreen.
It is very important to us that you are completely satisfied with your ooia. Therefore, returns are possible: you just have to return ooia within 90 days (unworn, of course) and pay the postage for the return.
still have questions?
How does the ooia nursing bra work?
The ooia nursing bra is as comfortable as your favorite bustier, but can do a lot more. You can simply machine wash the ooia nursing bra at 40 degrees and then put it back on again - this way you avoid a lot of waste caused by disposable products.
The ooia nursing bra has an integrated membrane system that absorbs leaking breast milk in a flash absorbs, does not slip and protects you from unpleasant stains on your clothing. With the pull-down function, you can easily push the cup aside and start breastfeeding.
How do I know that I need to change the ooia nursing bra?
You can wear the ooia nursing bra for several days and nights, it depends on the amount of milk and has to be considered individually. The nursing bra corresponds to a wearing time of two to three nursing pads and can then be easily washed with your laundry.
Moms Nursing Bra Lace black - b-ware Bewertungen